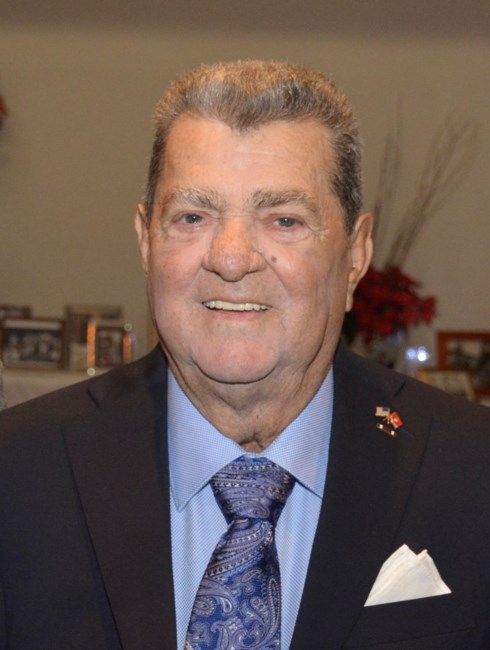 Retired Sergeant Ronald Michael Guilmette, "Ron", passed away on January 29, 2022, at his home in Sarasota, Florida, as his wife of 10 years, Cham Ngoc Guilmette, held his hand.  
     Ron is survived by his children, Kenneth Guilmette, Sr., Linda Guilmette Molloy, David Guilmette, Robert Guilmette, Anthony Guilmette, Michael Guilmette, and Nicholas Guilmette; his stepchildren, Daniel Valentino, Brenda Long, Julie Frizell, and Cathy Fetgatter; 19 grandchildren and 8 great-grandchildren; his siblings, William Guilmette, Elaine Hoell, Kenneth Guilmette, Bernadette Altieri, Maureen Carvolo, and Joseph Guilmette; and his former wives, Ginny Cunningham and Sheila Guilmette. Ron was preceded in death by his son, Ronald Guilmette, Jr.; his grandson, Ronald Guilmette, III; and his son-in-law, Christopher Fetgatter.
    Born on December 8, 1941, in Providence, Rhode Island, Ron was the son of the late William Henry Guilmette and the late Antonette Lolio Guilmette. Ron joined the Marine Corps at the early age of seventeen and served two tours in Vietnam (1963 and 1965) with the highly decorated 2nd Battalion, 4th Marine Regiment of the 1st Marine Division. Their nickname was "the Magnificent Bastards" and their motto was "Second to None." Ron served in Hotel (H Company) and retired with the rank of 1st Sergeant. After the Marine Corps, Ron joined the Army and served for another 10 years. Ron received numerous awards and medals for his distinguished military service.
     Following his military career, Ron embarked on a second profession in law enforcement when he joined the Cranston, Rhode Island, Police Department on July 1, 1969.  Over the course of his diverse police career, Ron was a member of several specialized units, including the motorcycle and underwater recovery team. He was the recipient of several departmental commendations for outstanding performance and letters of appreciation from the community. Ron served on the department for 24 years and retired as a Sergeant.
     After retiring from law enforcement, Ron continued learning and working and even became a flight instructor. Ron was also a member of the Blue Knights Motorcycle Club and was appointed as the chapter's Safety Officer. After fully retiring, Ron moved to Sarasota, met and married the love-of-his-life, Cham, who joined him in Sarasota where they established and enjoyed their "dream home."
     Following a lifetime of public service, what Ron most enjoyed was playing golf, having a cigar, riding his motorcycle, playing the violin, and above anything else, spending time with "my Cham."
     Ron was adored by his family and cherished by his friends, who lovingly referred to him as "Gunny." 
     Rest in peace our brother.